Mary Melena
Mary was born in Kansas City, Missouri, a city well known for music and Kansas City barbecue. She grew up surrounded by family, including four brothers and one sister. Mary showed an interest in art practically from birth. This led her to study music, fine arts, oil and pastel painting.
Mary borrowed her sister's classical guitar and chord book when she was twelve. At fourteen Mary bought her first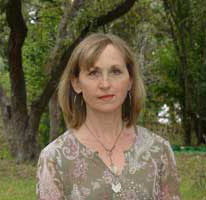 guitar with saved up babysitting money. That same year she played her first public performance. Mary continued to play clubs in Kansa City through her teens and early 20's. She also toured across the U.S. for many years. She majored in classical guitar at University of Missouri. Mary is currently a guitarist, singer songwriter and recording artist with Waterbug Records. Her music can be found at http://waterbug.com.
As many musicians know it can be hard to get by playing shows alone. Inspired by her father's home woodshop, Mary thought if she couldn't make a living playing guitar perhaps she could building guitars. She attended Vermont Instrument Workshop where she studied guitar building with George Morris.
During the late 80's Mary visited Austin TX on the way to Kerrville Folk Festival. Attracted to the live music scene she moved to Austin in 1990. In 2006 she came to work for Tom Ellis at Precision Pearl Inc. Feeling lucky to find a job where she could use her artistic skills, wood training and attention to detail, she happily settled into her new career. As an associate of Precision Pearl Inc. her main tasks started with cutting pearl, CAD machine operation and hand inlay. Over the course of the next several years Mary moved into wood processing including working for Ellis Mandolins. She is now involved in all phases of neck production, fingerboards and fret work for Ellis. Mary also continues to cut Abalam® inlays and do the majority of the hand inlay for Precision Pearl Inc.
As Mary progresses with Precision Pearl Inc. and Ellis Mandolins, she hopes to hone her hand woodworking skills and learn as much as possible about instrument building. She also plans to continue performing, recording and painting.
Contact : 512-442-4941 - ellisppi@sbcglobal.net - 7208 Cooper Lane, Austin Texas 78745