Tom Ellis grew up near Houston and enjoyed woodworking in his teens – mostly building surfboards. He built his first mandolin in the summer of 1972, and after graduating from college with a degree in photography in 1975, he re-enrolled to take a woodworking class specifically to build an F-5 style mandolin. That mandolin was completed in the summer of 1977.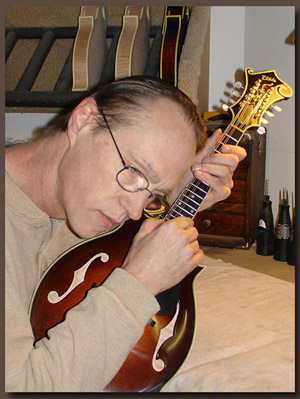 That year Tom moved to Austin and bought a house on 3 acres with a 1,500 sq/ft. shop in the back yard in which to build mandolins. Orders for his custom mandolins started appearing immediately. In September that year he took his second mandolin to the National Banjo Championships and was lucky enough to show it to Ricky Skaggs who ordered 2 of them and began endorsing Ellis Mandolins. Business was boosted in February 1981 when an article in Frets Magazine featured an interview with David Grisman, who said that Tom was one of the 5 best mandolin makers. Photos of Tom building Ricky's second mandolin appeared in the April '86 Frets Magazine that featured a visit to Tom's shop. That mandolin was also featured in Fine Woodworking Design Book Four.
Tom continued building mandolins and a few banjos but in 1992, with 3 children, he realized that custom building, which takes hundreds of hours per instrument wasn't going to pay the bills alone. He came up with a plan for using CNC technology to manufacture pearl inlays for the guitar industry, launching Precision Pearl Inlay. Since 1993 Precision Pearl Inc. has grown to include 6 employees and customers from many fine custom guitar makers and major guitar manufacturers all over the world.
In 2004, Tom initiated a new approach to building mandolins. With his experience with CNC technology, Tom began designing manufacturing systems to aid in the production of mandolins by performing all of the rough cutting of the mandolin bodies by machine. Then the pieces are carefully crafted by hand and lovingly assembled, bound and finished by Tom and the rest of the team at Ellis Mandolins, to produce beautiful, wonderful sounding instruments.
In Addition to building instruments Tom has been playing bass and singing tenor in Austin since 1977. A long time member of the Grazmatics and founding member of the Austin Lounge Lizards, he has also toured with Peter Rowan, Junior Brown and recorded with Nanci Griffith on mandolin.